Have you ever been to a major Mexican grocery store to buy corn flour so that you can try your best to mimic the authentic taste and texture of tortillas? Are you unsure whether you should get Nixtamasa vs. Maseca for the best home recipe?
In this guide, we'll help you understand the difference between the two product labels so you'll know what to shop for the next time you make Mexican food.
Let's dive right in!
What Is Maseca Flour?
The first thing you should know is that Maseca isn't a type of corn flour, but rather a brand that sells corn flour to enable you to recreate the distinctive flavor of Mexican or Latin recipes at home. Arguably, Maseca is the most well-known corn flour manufacturer in the entire globe!
You must be wondering about the brand's unique name! Well, it's a special creation by Roberto González Barrera—the late Mexican businessman and former chairman of Gruma, which is the mother company of Maseca.
He blended the words masa and seca, and together, they mean dry dough. It could also be another phrase for dehydrated corn flour.
Just like other flour brands, Maseca has several products under its umbrella to match your specific needs. Some types worth mentioning are:
Maseca Yellow Corn Flour
Maseca Blue Corn Instant Masa Flour (Masa de Maiz Azul)
Maseca Corn Masa Flour for Tamales
What Is Maseca Flour Made of?
According to Gruma, Maseca prides itself on making corn flour from premium whole corn to give you that delightful degree of chewiness that many tortilla lovers aim for.
Its whole corn is carefully selected to match the quality of original Mexican corn flour, not only in its rich taste but also in its high nutritional value.
Uses of Maseca Flour
Maseca flour's primary use is to make corn tortillas for delicious tacos, enchiladas, burritos, and quesadillas, but that's not all. You may include this type of corn flour in all recipes that contain regular corn flour.
For example, you can incorporate Maseca flour into your dough to cook empanadas, pupusas, tamales, and cornbread. Even better, this flour may add a lovely crunchiness to recipes that typically use good old white bread.
From cakes and cookies to pizza crusts and croissants, Maseca flour is ready to please your taste buds and introduce new flavors to everyday recipes!
You'll also like that this flour does well in custards and gravies since it has incredible thickening qualities. In addition, it's a suitable alternative if you don't have breadcrumbs at home to bread chicken tenders, fried fish, corn dogs, and the like.
Nutritional Content of Maseca Flour
Finally, let's dive into how Maseca flour is doing on a nutritional basis, starting with the fact that it's high in protein and low in fat compared to white flour!
Better yet, Maseca is naturally vegan and gluten-free, perfect for people who want a healthier lifestyle without worrying about allergies or compromising on good taste.
Here are some nutritional facts about the Maseca flour, which are somewhat similar to what wheat flour offers you minus the gluten part:
Calories (in one cup or 120g): 440
Protein: 12g
Carbohydrates: 92g
Fat: 4g
Calcium: 100mg (8% of daily intake)
Iron: 0.7mg (8% of daily intake)
What Is Nixtamasa?
Contrary to what you may have thought, Nixtamasa isn't another brand of corn flour, nor is it a different kind. Simply, Nixtamasa refers to a variety of Maseca flour that's been nixtamalized to fortify the real corn taste and aroma.
It's just a category of Maseca flour with slightly higher iron and calcium content than the regular product thanks to the addition of enzymes and gums.
What Is Nixtamasa Made of?
Like all Maseca products, Nixtamasa's main ingredient is high-quality whole corn.
Only in this case, the corn undergoes a nixtamalization process that's different from the caustic blast production process. In nixtamalization, corn kernels are treated with an alkaline solution (mostly lime). Then, they're cooked and later dried and ground to give you the corn flour used to make traditional tortillas.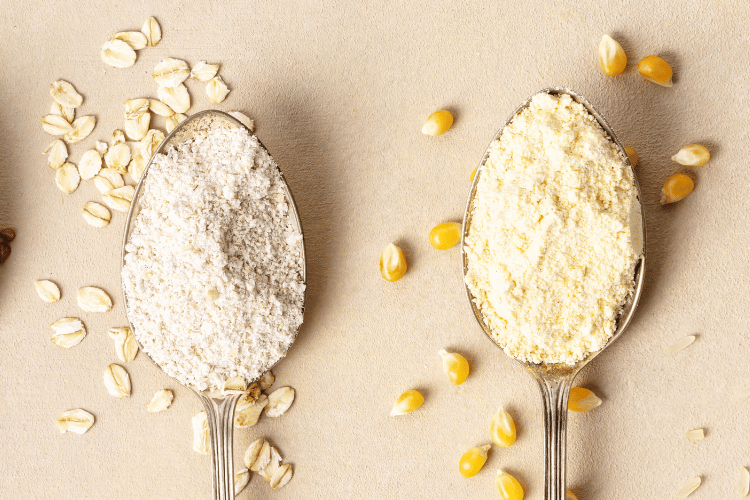 Uses of Nixtamasa
Nixtamasa has the same uses as regular Maseca flour, too. However, people specifically buy it to mimic the original taste of tortillas made across Mexico and Latin America.
In other words, Nixtamasa does a better job of getting rid of the flavor of prepackaged flour and improving the original corn taste in your tortillas. Talk about richer tacos, burritos, tortilla chips, and more!
Plus, Nixtamasa is healthy, vegan-approved, and gluten-free.
Nutritional Content of Nixtamasa
Let's go through the product details of Nixtamasa real quick!
Calories (in one cup or 120g): 440
Protein: 8g
Carbohydrates: 92g
Fat: 6g
Calcium: 400mg (32% of daily intake)
Iron: 2.8mg (16% of daily intake)
Which One Should You Choose, Nixtamasa or Normal Maseca?
Since the nutritional benefits of both types of corn flour are practically the same, the choice of whether Nixtamasa or regular Maseca is better is based on personal preference. It all comes down to how you want your tortillas to taste!
If you'd like a more pronounced effect of corn, Nixtamasa should be a no-brainer option. On the other hand, you may go for regular Maseca flour or any of its varieties if you're okay with the slightly reduced corn aroma and flavor.
As for use in recipes, they're both wonderful options in anything from delicious tamales and enchiladas to cupcakes and cornbread.
To Wrap It Up
If you're new to Mexican dishes and food preparation, it may be hard to grasp the concept of Nixtamasa vs. Maseca. While they aren't the same product, they're not much different from each other.
To recap, Maseca is a famous brand that makes corn flour. As for Nixtamasa, it's one of this brand's specific products that aims to enhance the flavor of corn in your tortillas using the nixtamalization process.
Next time you find yourself in the Mexican products aisle, we're sure there will be no more confusion about corn flour types!
Latest posts by Kaitlyn James
(see all)