Pyrex and CorningWare are big names in the world of kitchenware. They've been around for at least 50 years and continue to be a staple in most households.
If you're planning to buy or replace one of your casseroles, you can't go wrong with either brand. But which one should you go for?
In this Pyrex vs. CorningWare comparison guide, we take a closer look at their composition, performance, durability, heat resistance, and more. By the end of this article, you'll hopefully be able to choose which bakeware brand to get!
Pyrex vs. CorningWare: Comparison Overview
| | | |
| --- | --- | --- |
| Information | Pyrex | CorningWare |
| Start Manufacture date | 1915 by Corning Inc. | 1958 by Corning Inc. |
| Construction | Borosilicate (1900s to 1970s) Soda-lime (1980s to present) | Pyroceram (1950s to 1980s), Stone Ceramic (2000s to present) |
| Temperature | 300°F to 350°F | 350°F to 500°F |
| Thermal shock | 220°F | 840°F |
| Features | Oven-safe, freezer-safe, dishwasher-safe, microwave-safe, and scratch resistant | Oven-safe, freezer-safe dishwasher-safe, and microwave-safe |
| Stove-top Safe? | No. Both Borosilicate and Soda-lime Pyrex aren't safe for stove-top use | Pyroceram-based CorningWare is safe for stovetop use (as well as broiler and toaster oven) while Stone-based CorningWare isn't |
| Function | Baking, food storage, measuring, and mixing | Cooking, serving, and baking |
Brief History of Pyrex
Pyrex is a line of clear, borosilicate/soda-lime glass cookware that can withstand extreme heat and cold without breaking. It was introduced by Corning Glass Works (now Corning Inc.) in 1915.
Pyrex came to be when Bessie Littleton asked her husband, Corning engineer Jessie Littleton, to bring a sample of lantern glass to test out in the oven. She was tired of constantly breaking and damaging her cookware and thought that perhaps lantern glass, with its high-temperature range, corrosion resistance, and durability, could fix her problem.
After experimenting with a few dishes—potatoes, meat dishes, and savory cakes—Bessie concluded that Nonex, the glass used in battery jars and railroad lanterns, performed significantly better than most of her cookware. Her success pushed Corning to expand its product line to include kitchen utensils alongside railroad equipment.
"Bake in glass!" Corning advertised upon the launch of their latest product, Pyrex: a combination of Pie and Nonex. "It's swift, clean, and economical!"
The introduction of Pyrex was, at the time, revolutionary. Glass cookware that could withstand high heat and cold? It was unheard of. Pyrex sold out like hotcakes and shortly became a staple in every American household.
Over a century later, Pyrex is still as popular as ever. Corning has since expanded its Pyrex product line and now includes everything from pie pans to measuring cups to glass mixing bowls. It's praised for its versatility, durability, and high resistance to thermal expansion and chemical exposure.
Brief History of CorningWare
CorningWare was introduced in 1958 by the same company that manufactured Pyrex, Corning Inc.
Like Pyrex, CorningWare was an accidental discovery. Stanley Donald Stookey, research director at Corning, discovered a white glass-ceramic material capable of withstanding thermal shock of up to 840°F.
He placed a piece of photosensitive glass atop a furnace, planning to heat it to 600°F. But as luck would have it, he completely forgot about the sample until it reached temperatures of upwards of 900°F. The transparent glass turned milky white and thus, deeming it a failure, went to discard it when it slipped and hit the floor.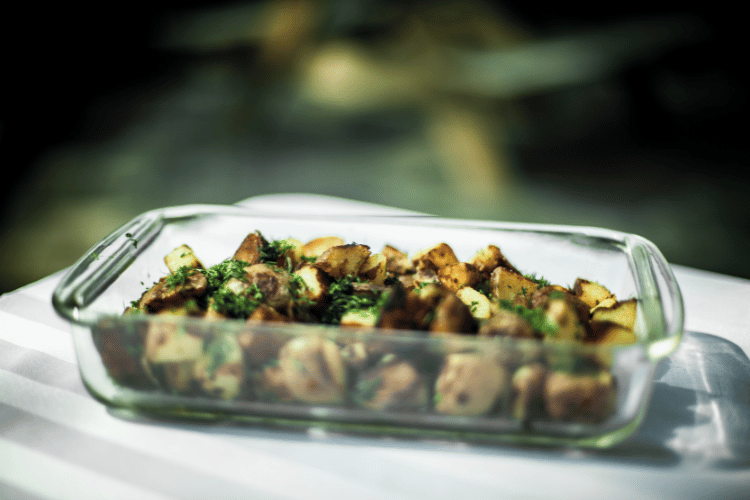 Surprisingly, the glass didn't break. At that moment, Stookey found great potential. That was how CorningWare—made from Pyroceram—came to be.
Like Pyrex, CorningWare became a cult classic in the 1950s. After all, it was practical, resistant to high temperatures, and practically indestructible. It was oven safe up to 550°F, microwave-safe, and broiler safe. You can use it on ceramic tops, and electric, and gas ranges. You can freeze it, too!
It also doesn't hurt that many CorningWare pieces were literary works of art, with sleek, elegant designs that looked exquisite on a kitchen or dinner table.
Homemakers in the 60s, 70s, and 80s had at least a few CorningWare pieces in their possession.
During the next 50-some years, Corning produced more than 75 unique patterns. Cornflower Blue, Starburst, Wildflower, and Nature's Bounty were—and still are—the most popular. Today, Vintage CorningWare sells between $15 to upwards of $100 apiece.
Pyrex vs. CorningWare: What's the Difference?
Though manufactured by the same company, Pyrex and CorningWare have some distinct differences that set them apart—both in design and purpose.
Construction
The biggest difference between CorningWare and Pyrex kitchenware is their construction.
Vintage Pyrex (1900s to 1970s) is made of clear, tempered borosilicate glass while vintage CorningWare (1950s to 1980s) is made of opaque, glass-ceramic Pyroceram.
Conversely, modern Pyrex is made with soda-lime tempered glass while modern CorningWare is made of stone ceramic.
Durability and Heat Resistance
Pyrex can withstand heat of between -40°F to 350°F, and has a thermal-shock resistance that goes up to 220°F. On the other hand, CorningWare can handle heat of between 350°F to 500°F, and a thermal shock of up to 840°F.
As for durability, both exceed expectations. Though not 100% shatterproof, Pyrex and CorningWare can easily brush off minor bumps and accidental falls.
Pyrex can't be used on the stovetop, in a toaster oven, or under the broiler. It can only be used in the oven. Vintage CorningWare can be used on a stovetop, so long as it was manufactured before 2000. CorningWare manufactured from the year 2000 and beyond is mostly made of stoneware, so they're not compatible with stovetop use.
Keyword: most. The CorningWare Blue Cornflower Casserole Set withstands temperatures as well as the original and can be used directly on stovetops.
Vintage CorningWare comes with an embossed blue or black stamp that reads "Pyroceram," alongside a stylized fireball symbol. This symbol indicates that it's safe for cooktop use.
Performance
Pyrex casseroles, storage containers, and measuring cups are 100% lead-free, and the lid on the storage containers is BPA-free.
Pyrex kitchenware is non-reactive to food; it doesn't absorb odor, flavors, or stains even when cooked in acidic foods like tomatoes. It's dishwasher-safe, too. It can take heavy-duty scrubbings, and while not scratch-free, it's decently resistant to scratches. With proper care, Pyrex kitchenware can last you years of repeated use.
That said, Pyrex kitchenware isn't without flaws. The biggest flaw of Pyrex is that it's highly reactive to sudden temperature changes. If you take a lasagne dish out of the oven and place it on a cold or wet countertop, the Pyrex might crack or even explode. You can't take Pyrex from the freezer to the oven and vice versa for the same reason.
There's also the fact that glass is a poor conductor of heat, so pies and casseroles tend to cook unevenly. Bread, for example, doesn't bake as well in Pyrex because of how heat is distributed in the glass. Smaller casseroles and quick-cook pies work best for Pyrex bakeware.
CorningWare casseroles perform similarly to Pyrex casseroles. They're non-reactive, scratch-resistant, and dishwasher-safe. Plus, they can go directly from the freezer to the stovetop without cracking so long as they're not made of stone ceramic, and can take the high heat of a broiler.
CorningWare is made of glass-ceramic Pyroceram, so it performs better in baking than Pyrex. It heats quickly and evenly, making it an excellent choice when working with ingredients prone to uneven cooking, like cuts of meat.
Design
CorningWare has created over 80 patterns since its inception in 1958.
Some of the rarest and most popular include Blue Cornflower, Spice of Life, Wildflower, Nature's Bounty, Blue Heather, and Starburst. Vintage CorningWare with these designs sells for up to $100 a piece, with some crossing the $1,000 mark.
Pyrex is known for its clear glass design, but vintage Pyrex comes with varying patterns.
Standard Pyrex vintage patterns were available for a limited time and number, so they're highly sought out by collectors.
The most popular include Pink Daisy, Daisy Pattern, American Pattern, Snowflake Blue, Spring Blossom Green, and Colonial Mist.
Pros and Cons of Pyrex
Here are the biggest pros and cons of Pyrex kitchenware:
Pros
Dishwasher, microwave, and freezer safe
Resistant to low temperatures of up to -40°F and high temperatures of up to 350°F
Resistant to odors, stains, flavor, and scratches
Smooth and uniform surface, preventing food from sticking into it
Non-toxic and safe for long-term use
Simple and minimal appearance
Transparency allows you to see food without removing the lid or foil, which is important for maintaining proper temperatures while baking
Comes in various types, from casseroles to storage containers to measuring cups
Cons
Takes a while to warm up as glass is a poor conductor of heat
Can't be used on the stove top or broiler, lest it cracks or explodes
May spontaneously break or explode when a hot Pyrex container is placed on a cold surface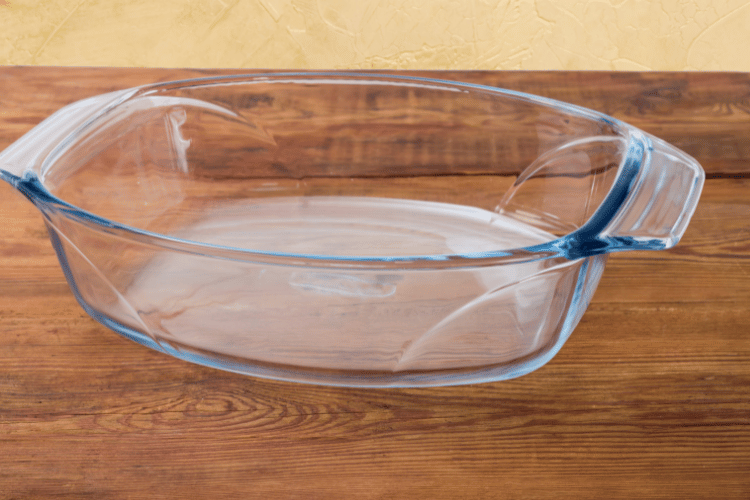 Pros and Cons of CorningWare
These are the advantages and disadvantages of using CorningWare in place of Pyrex:
Pros
Can be used on the stove top, broiler, and toaster oven provided it isn't made of stone ceramic
Dishwasher, freezer, and microwave safe
Resistant to heat of up to 450F
Presentable appearance with a nostalgic "vintage" look
Comes in varying sizes, allowing you to entertain family gatherings big or small
Made of food-safe materials that don't react or change in high heat
Doesn't hold on to stain, odor, and flavor
Doesn't chip even when dropped on cement or tile floors
Excellent heat retention and cooks food evenly on all sides
Cons
Glass lid isn't oven-safe. It's primarily designed to help hold in the heat after cooking
Costlier than Pyrex kitchenware
Modern variants aren't as durable as vintage variants
Frequently Asked Questions
Is vintage Pyrex different from modern Pyrex?
Yes, vintage Pyrex is different from modern Pyrex and is generally considered better than the alternative.
Vintage Pyrex (1950s to the late 1970s) is made from pure borosilicate formula that allows safe handling in thermal shock environments.
Pyrex switched to tempered soda-lime glass in the 1980s, which doesn't have as much silica as borosilicate glass. This makes it more susceptible to breakages and less heat resistant.
How do I tell the difference between vintage Pyrex and modern Pyrex?
Vintage Pyrex has a trademark label with the year embossed on the bottom of the dish. It's considered "vintage" if it has been manufactured from the 1900s to the late 1970s.
Pyrex kitchenware with uppercase lettering (PYREX) is made of borosilicate, while lowercase lettering (pyrex) is made of soda-lime glass.
Can I use my Pyrex on the stove in low heat?
Absolutely not! Even in low heat, Pyrex shouldn't be used atop a stove. This goes for both vintage and modern Pyrex.
Can I put vintage Pyrex in the dishwasher?
You can, but only for clear Pyrex. Colored vintage Pyrex shouldn't be placed in the dishwasher as it may wash off the delicate colored designs.
Wash vintage Pyrex with mild soap and a non-abrasive pad. Avoid chemical cleaners like Bon Ami, Comet, Corning Cleaner, and vinegar as they may damage the integrity of the Pyrex.
Is CorningWare discontinued?
No, CorningWare is still up and running!
The original Pyroceram-based CorningWare ceased production in 2000 due to slumping sales and sold the brand name to World Kitchen, LLC.
The brand relaunched as a line of stoneware-based cookware, with the occasional Pyroceram-based ware. The sales of such wares were temporarily discontinued in early 2022 but reappeared in 2023.
How do I tell the difference between vintage CorningWare and modern CorningWare?
The easiest way to tell vintage from modern is to check the underside of the casserole, where you'll find the production number, pattern name, and date.
Products manufactured before 1998 have the stamp in two words: Corning Ware.
Pyroceram-based CorningWare is made in the US, while stone ceramic CorningWare is made in China.
Wrapping Up
We hoped this Pyrex vs. CorningWare comparison guide helped you decide which bakeware is best for you!
Pyrex and CorningWare are oven, microwave, and dishwasher safe. Pyroceram-based CorningWare can be used on top of the stove, toaster oven, and broiler, but Pyrex and stoneware CorningWare can't. Make sure to check the label to prevent damaging the cookware.
Latest posts by Kaitlyn James
(see all)