Russet potatoes, also commonly known as 'Idaho potatoes' are renowned for being some of the most popular and beloved potatoes across the world.
The potatoes themselves feature a dark brown skin with an internal white flesh that is incredibly soft and morish, making them perfect to include in countless recipes.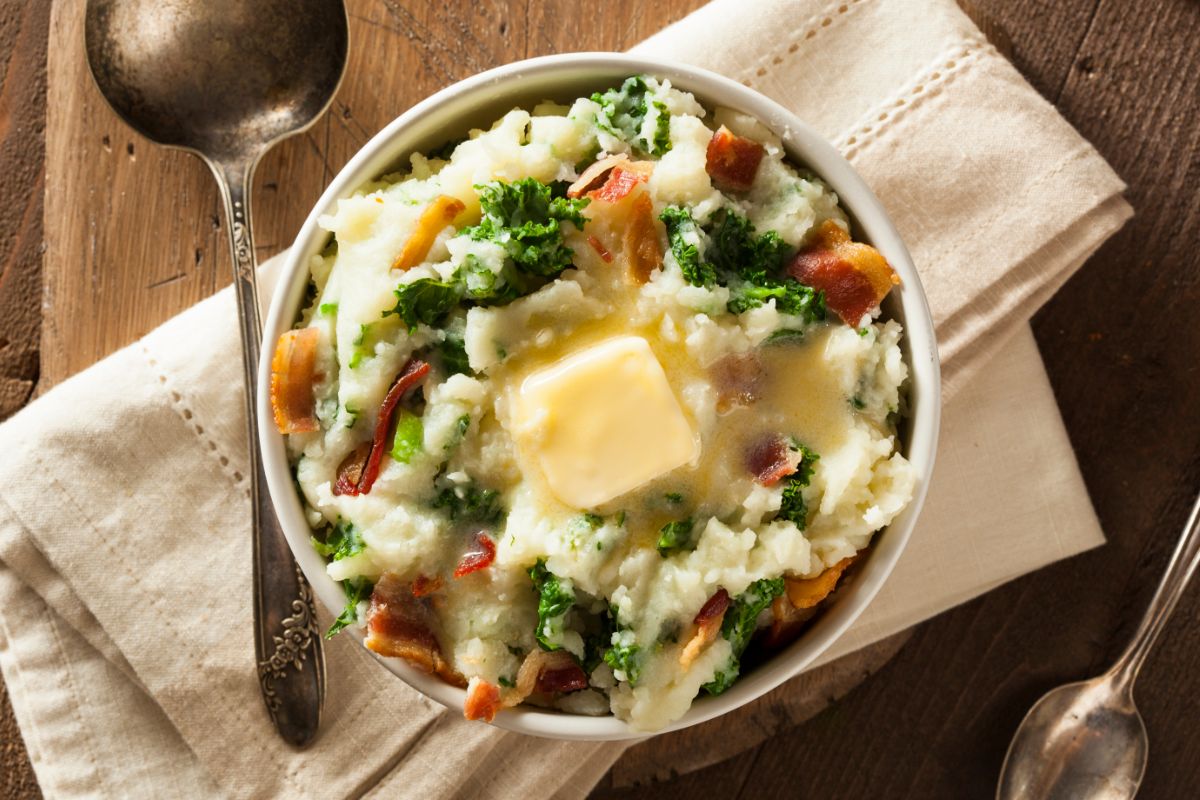 These amazing potatoes are great to cook up as the main event for a meal, or to be used as part of a side dish for a larger meal. Popular common uses of russet potatoes include using them to create mashed potatoes and french fries.
But what if you wanted to find some truly out-of-the-box ways of using them? Well, you've come to the right place!
Today, we are going to take you through some of our absolute favorite recipes that make perfect use of russet potatoes in ways that you likely may not have ever imagined. Let's dive right in!
Mashed potatoes are one of the very best side dishes imaginable. There's a reason why everyone loves this classic side dish. Mashed potatoes are incredibly easy to make, and result in a side that can easily pair with different meats and other foods.
However, sometimes mashed potatoes can begin to taste a bit samey if you make them, again and again, using the same recipe.
If you want to totally rejuvenate your mashed potatoes, and make them taste more incredible than ever, then we cannot understate the wonder of this recipe.
These mashed potatoes are stuffed full of garlic, and they make use of cream cheese, to give them an even creamier texture than before.
We loved the inclusion of chicken broth, which helped to give the potatoes a great savoriness and a slight meaty taste. We're craving these mashed potatoes as we write about them now!
One of the best things about russet potatoes is that, despite their soft texture, they are actually able to retain their structure very effectively.
This means that they can be easily added to dishes like curries.
As well as this, while russet potatoes are able to maintain their structure as they are cooked, they are still very absorbent, which means that they are able to easily soak up the flavors of the curry sauce.
Of all of the curries that make use of russet potatoes, this has to be our absolute favorite. The sauce is totally amazing, with great coconut notes that help to give it an exotic burst of flavor.
Serve this dish atop a bed of rice, and in no time you'll have a meal that will fill you up in no time, and leave your taste buds satisfied.
Baking russet potatoes can be a great way to make them even more incredible to eat. Baking causes the potatoes to become incredibly soft and easy to eat, while also allowing the outer portion of the potatoes to crisp up in a nice way that is very satisfying.
If you want to make your russet potatoes even more satisfying to bite into, and even more crispy on the outside, then you simply need to make use of this recipe.
This recipe will show you how you can cut the potatoes in a very specific way to allow the heat from your oven to allow the inner flesh of the potatoes to cook more efficiently.
The way the resulting potatoes look is enough to get your mouth watering, (see also: Best 10 Farro Recipes That Will Make Your Mouth Water)but we know that the smell of these potatoes will help to make them even more irresistible. The addition of plenty of garlic helps to make them really warming to eat.
Russet potatoes are perfect for adding to countless different soups to help give them a greater sense of texture, but not only that, they are also great for creating their very own soup, where they are the main event.
The potatoes are combined, in this recipe, with plenty of celery, garlic, cheddar cheese, and sour cream, alongside many other ingredients, to make the flavor of the potato really pop.
What results is a really warming soup that is great to cook up during the winter months when you really want something that is easy to eat.
Baking russet potatoes can be a great way to soften them up, ready to be topped with countless fillings to create a meal that will satisfy countless taste buds.
But, this recipe will prove that baking them a second time can be a great way to drive that texture even further, to allow the potatoes to more easily soak up the flavors from toppings that you add to them.
This recipe not only shows you how to perfectly double-bake russet potatoes, but will also show you how to stuff them with loads of cheese, top them off with bacon, and create amazing bites that are perfect for serving at a party.
We couldn't get enough of these delicious bites of goodness, and the best thing was, they were totally easy to cook up, so we didn't have to put much effort into making a second helping!
The Lighthouse Inn, a popular restaurant in Connecticut, is renowned for serving their famous potatoes, which prove so memorable and easy to crave that many people actively seek to return to the restaurant as often as they can just to get a taste of them!
The potatoes are stuffed with parmesan cheese, butter, cream, and loads of panko breadcrumbs, which are lightly scattered over the top. This creates a soft and gooey dish that has a crunchy upper half.
This makes the dish a total delight for the senses. The contrast between the two textures is so good that it is no surprise the dish is so memorable for so many people.
Casserole is one of the best dishes to cook up if you just want something simple and satisfying. This makes it a totally perfect dish to cook up in the morning for breakfast.
Of all of the breakfast casserole recipes we've come across over the years, this is definitely one of our favorites.
Not only is this casserole safe for paleo diets, but it is also stuffed to the brim with things like russet potatoes, to create hash browns, (see also: Simply Potatoes® Hash Brown Southwestern Egg Muffin)plenty of bacon, eggs, and bell peppers, just to name a few.
It's a very jam-packed recipe, but one that is easy to follow and will satisfy your taste buds first thing in the morning, leaving you feeling ready to take on the world!
Roasting your russet potatoes may seem like the easiest and simplest way to cook up your potatoes, but this in no way means that they have to be totally boring to eat!
This recipe will show you how you can bring the absolute most out of your roast russet potatoes to make every single bite worth it. Perhaps one of the best things about this recipe is that it is surprisingly healthy.
You don't need a massive amount of oil or any other ingredients to help the potatoes to roast to perfection.
The potatoes are, however, sprinkled with plenty of garlic powder, paprika, and salt and pepper, to help make flavor explode from them with every bite.
Roasting potatoes is almost a given, so we figured we would show you one of the very best roast potato recipes we have come across.
Using an air fryer can be a great way to help make cooking delicious potato dishes much easier.
This recipe will show you how you can put your air fryer to perfect use to create potato wedges that are lovely and crispy outside, and yet very fluffy on the inside.
We recommend trying out the blend of herbs and spices that this recipe chooses to scatter over the potatoes to help give them a great flavor.
Herbs like parsley, and spices like paprika and chili powder help to add a slight fierceness to the wedges, and also give them a great savory flavor.
Try dipping these delightful wedges in sour cream for a perfect complementary flavor!
To Wrap Up
These are just a few of the great recipes that you can cook up using some russet potatoes. Each of these recipes makes perfect use of the potatoes, drawing out their texture to make them incredible to eat! Why not try some today?
Frequently Asked Questions
Do Russet Potatoes Make Good Mashed?
Absolutely. Mashed potatoes made with russet potatoes are very creamy and absorbent, and russet potatoes mash very easily.
Can You Freeze Russet Potatoes?
Absolutely. You can freeze pretty much all types of potato.
Does Freezing Raw Potatoes Ruin Them?
While freezing raw potatoes will not outright ruin them, the process of freezing and then thawing will cause a very miniscule change to the texture.
Latest posts by Kaitlyn James
(see all)