If you're fond of Italian food, you've probably seen guazzetto sauce on a restaurant menu or tasted it as part of a savory dish. The term guazzetto translates into "stew," and it can also mean "splashed with wine."
Guazzetto sauce is usually prepared by simmering oil, spices, broth, wine, and tomato paste in a pot together with your choice of chicken, beef, or fish. The beauty of this appetizing sauce lies in its versatility—its ultimate flavor depends on what ingredient you garnish it with!
To give you a few sumptuous ideas on how to prepare this sauce in your own kitchen, we've put together the best guazzetto sauce ingredients and recipes to choose from! Whether you want beef, prawns, or clams in your sauce, this guide has got you covered.
How to Make Seafood Guazzetto Sauce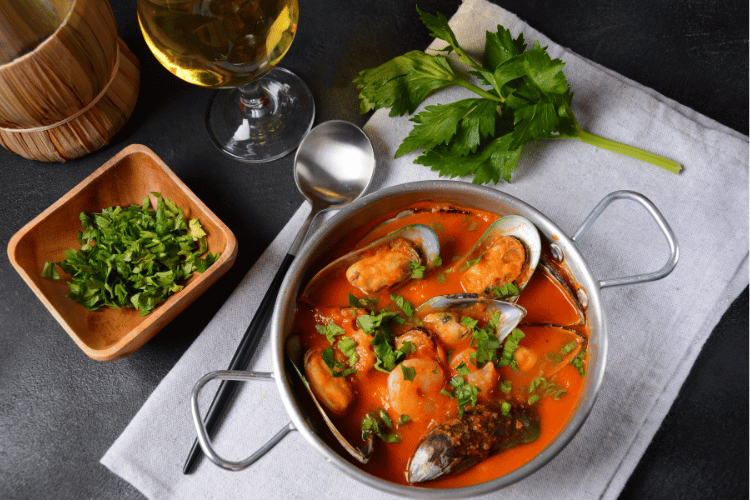 This delicious dish is the perfect candidate for a hearty lunch or a tasty dinner with the family. What makes this recipe special is the addition of a variety of shellfish to add extra flavor to your guazzetto sauce.
Seafood Guazzetto Sauce Ingredients
3 cloves of garlic
5 sprigs of fresh parsley
A small handful of basil leaves
A pinch of saffron
2 star anise
2 small red chilies (sliced and divided into three parts)
A bunch of spring onions
50g of tomato purée
150g of cherry tomatoes
1 juiced lemon
100ml of white wine
300g of clams
300g of mussels
20 red prawns (large, raw, and unpeeled)
Extra virgin olive oil
Instructions
Start by shelling your prawns and setting aside the heads, shells, and tails. Thoroughly rinse the clams and mussels and remove any beards as well.
Next, prepare your fresh tomatoes by cutting a cross in the base of each one and blanching them in boiling water for about a minute. Drain, peel, and set them aside.
Grab a sauté pan, set it on medium heat, and add a glug of your oil. Mix in a part of your sliced chilies and one of your garlic cloves for one minute before adding the mussels, clams, and half of the white wine.
Put a lid on your pan and cook the seafood for a couple of minutes until all shells have opened. Remove your pan from the heat, set it aside, and discard shells that don't open.
Slice up your spring onions, and separate the white and green sections. Add olive oil into another saucepan and cook the green spring onion bits plus one sliced garlic clove over medium heat. Do this for a few minutes to soften the onions.
Now, it's time to add in your prawn heads and shells! Cook them for one minute before you mix in star anise, parsley, another part of your chilies, lemon juice, and the last half of your wine. Simmer for about 10 minutes until your wine has reduced considerably.
Add your tomato paste and saffron to the mixture, and strain the cooking liquid from your mussels into the sauce. While the mixture simmers, pick out the meat from your mussel and clam shells.
Pass your guazzetto sauce through a sieve and set it aside. Fry the white sections of your spring onions, another part of your sliced chilies, and a garlic clove in olive oil. Add your tomatoes, basil leaves, and guazzetto sauce.
Remove the yummy mixture from the heat, add your clams, mussels, and prawn tails, then serve!
How to Make Beef Guazzetto Sauce
This beef guazzetto sauce recipe makes a savory and delicious stew that can feed up to eight people! You can serve it with warm, fluffy, grilled bread of your choice or use the sauce to coat around a pound of pasta. Enjoy!
Beef Guazzetto Sauce Ingredients
Half a cup of dried porcini mushrooms
2 pounds of beef chuck (boneless, 2-inch cubes)
6 cups of stock (chicken)
1 ½ teaspoons of kosher salt
5 tablespoons of extra virgin olive oil
1 cup of dry white wine
1 large onion (chopped)
2 cups of coarsely grated carrots
¼ cup of tomato paste
3 pieces of fresh bay leaves
A pinch of ground cloves
All-purpose flour
Instructions
1. Simmer your chicken stock in a saucepan. Then, place your mushrooms in a spouted measuring cup and add a cup of the hot stock. Set this aside.
2. Season your beef chuck with half a teaspoon of kosher salt. Some recipes use ground beef or oxtails for a different taste and texture. Spread some all-purpose flour on a plate and dredge the beef in it. Make sure that the coating is light, and tap off any excess flour.
3. Next, heat 1-2 tablespoons of olive oil in a Dutch oven, using medium heat. Wait for the oil to become hot, then add your beef and wait for around eight minutes until it's brown all over. Set your beef aside on a plate.
4. After taking out the beef, add the remaining couple of tablespoons of olive oil to the Dutch oven and wait until it's hot. Stir in your onion and carrots, and cook them for about six minutes until the onion is soft.
5. Add the tomato paste and stir for two minutes until you notice the paste darken by one or two shades. Stir in your wine, simmer, and cook for another 2–3 minutes, until the mixture is reduced by half.
6. Now, it's time to add your bay leaves, cloves, and the last teaspoon of kosher salt. Take out your porcini mushrooms from the soaking liquid and chop them up before adding them to your sauce.
7. Add the mushrooms' soaking liquid and the beef chuck. Pour in just enough hot stock to cover the beef. Cover your sauce and simmer until your beef is sufficiently tender. This may take 1–2 hours. Remember to add more stock or water to maintain the sauce.
8. Take out your bay leaves, bring your guazzetto sauce to a boil, and cook until the sauce is your preferred thickness. Serve while it's hot, sprinkle some cheese if you want, and enjoy with your favorite side dishes!
Wrapping Up
The next time you find yourself staring at a dry dish or looking for a way to impress your dinner guests, remember the fantastic guazzetto sauce ingredients and recipes in this guide!
You can try this Southern Italian sauce on its own or pair it with baked potatoes, crusty bread, pasta, a refreshing salad, or a steaming bowl of white rice. The possibilities are endless when it comes to this amazing sauce.
For more interesting ideas on how to add flavor to your meals, check out our food guides on ranchero sauce and sweetbreads. Happy cooking!
Latest posts by Kaitlyn James
(see all)