Quiche is as hearty and delicious a meal as there is. If you want to indulge in this dish but don't want to use half and half milk and heavy cream in the recipe, you may ask: can you use buttermilk in quiche?
Buttermilk works well in a lot of quiche recipes. It gives the quiche a light and fluffy texture as well as an additional layer of flavor. However, avoid using non-fat buttermilk.
Read on to learn more about how to use buttermilk in your quiche recipe.
Is Buttermilk Good For Making Quiche?
If you're wondering if you can use buttermilk to make quiche, you certainly can.
Most quiche recipes use a half-and-half milk and heavy cream combo. However, many people go for buttermilk when the former isn't available. When they do so, they often use buttermilk every time moving forward.
This is especially true for those who prefer their quiche to be light and airy.
Furthermore, the buttermilk adds an extra dimension to your quiche's flavor that'll make you wonder why you haven't been using it for all these years.
Note that you should avoid non-fat buttermilk in quiche. That's because using it takes away from your quiche's richness.
Is Buttermilk Healthier Than Half and Half?
Another perk of substituting the half and half in your quiche recipe with buttermilk is that the latter is healthier.
Half and half contains 315 calories per cup. On the other hand, buttermilk has significantly lower calories at only 99 calories per cup. This makes your quiche indulgence more guilt-free if you're on a diet.
Additionally, buttermilk has more carbohydrates than half and half. The higher carb content makes it a more energy-rich ingredient.
In short, "a moment on the lips, a lifetime on the hips" applies a whole lot less to buttermilk quiche!
Other Substitutes You Can Use
Buttermilk isn't the only substitute for half and half you can use in quiche recipes. You can also go for a Greek yogurt and milk combination, as well as a mix of soy milk and olive oil.
Try these tweaks out and see which tickles your fancy the most!
Spinach and Bacon Buttermilk Quiche Recipe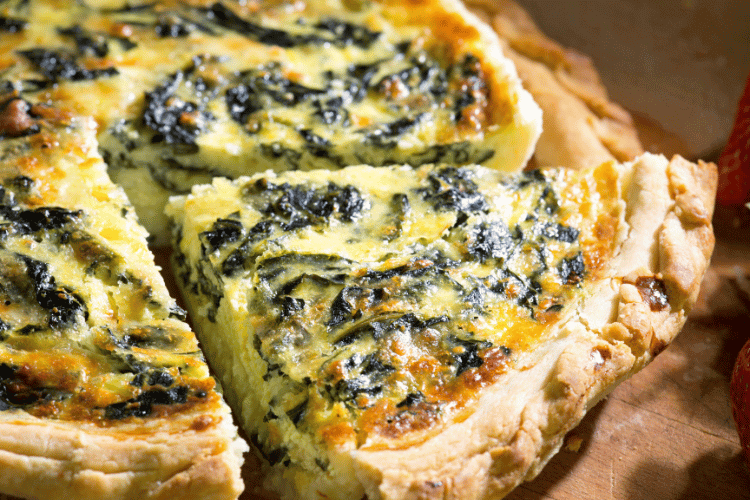 There are plenty of buttermilk quiche recipes out there, but this one for spinach and bacon quiche is our favorite.
We've outlined the ingredients and detailed instructions for this simple recipe below.
Ingredients
Here are the ingredients you'll need to bake this mouthwatering quiche:
8 eggs
1 tablespoon of unsalted butter
12 slices of cooked and crumbled bacon
1 teaspoon of salt
½ a teaspoon of freshly ground pepper
1 box of thawed and dried spinach
½ a cup of grated Parmesan cheese
1 ½ cups of grated Gruyere cheese
1 cup of half and half
1 cup buttermilk
1 diced shallot
2 refrigerated pie crusts
Step-By-Step Instructions
The first phase of the recipe is to prepare the pie crusts. Here's how to do so:
Unroll the crusts and place them into two separate pie plates.
Use a fork to poke holes into the crusts' bottoms.
Preheat your oven to 400℉.
Place the crusts into the preheated oven and bake for 10 minutes.
Once baked, allow the crusts to cool on the counter.
Once you've prepared the crusts, it's time to start on the quiche itself.
First, melt some butter in a skillet and saute the diced shallot until it's soft.
Place the eggs in a bowl and whisk them gently with a fork.
In the same bowl, add the half and half, buttermilk, bacon, spinach, a pinch of salt and pepper, and the cheese.
Whisk again until all ingredients are well mixed.
Distribute the mixture evenly between the two crusts.
Preheat your oven to 350℉
Place the crusts in the oven and bake for 40 to 45 minutes. You'll know when it's time to take the quiche out when it doesn't jiggle when you shake it.
Allow the quiche to settle for 20-25 minutes before slicing and serving it.
Finally, enjoy your perfect meal!
Recipe Tips and Notes
Here are some valuable tips to keep in mind when making your spinach and bacon buttermilk quiche:
Make sure you squeeze any moisture out of the spinach to avoid the quiche coming out soggy.
If you prefer other meats, try using smoked sausage instead of bacon.
Gruyere cheese isn't your only option. You can use mozzarella, feta, or cheddar cheese instead. Each of these cheeses adds its own character to your scrumptious quiche.
Conclusion
Are you wondering if you can use buttermilk in quiche? The answer is you certainly can.
Buttermilk is an excellent substitute for half-and-half milk and heavy cream. The resulting quiche is lighter and airier. Furthermore, it adds a subtle but noticeable tang to your delicious dish.
Try out the spinach and bacon quiche recipe we outlined above and you won't regret it!
Latest posts by Kaitlyn James
(see all)