In Memphis, babies come out BBQing at birth. It's in the blood of the people. Families pass down secret recipes from generation to generation, and these soulful traditional barbecues are simply incomparable from anywhere else on the planet.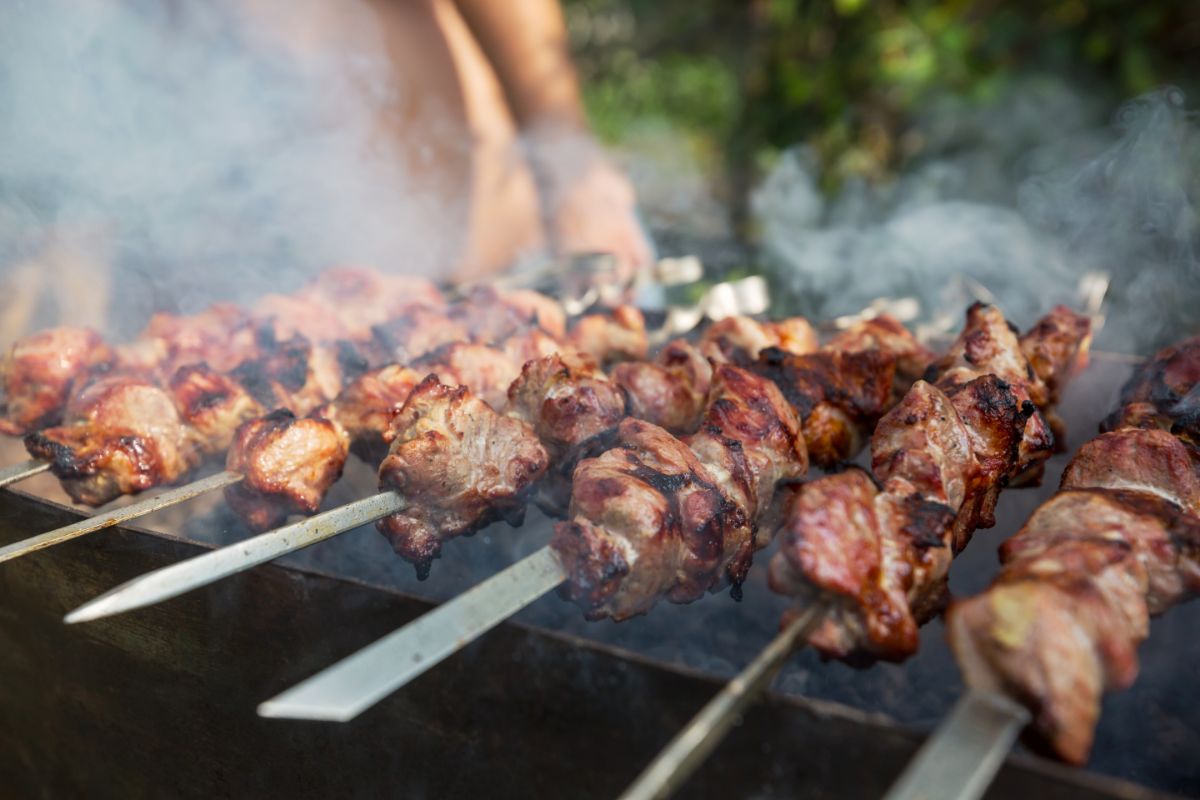 Since the early 1920s Memphis has built its brilliant barbecue reputation, and as each year passes these restaurants only get better and more popular.
The beauty of Memphis is that you can barbecue just about anything; chicken, pork, beef, turkey, or sausage. They're all fair game along with the typical classics of brisket, ribs, and burnt ends.
Then you can't forget about the amazing sides that come with this stunning smoky meat. From sweet-yet-savory beans to yellow mustard slaw, each side just pairs perfectly with that signature thick and tangy sauce.
Ugh, I'm hungry just thinking about it. Ready to learn about some of the very best BBQ joints in Memphis? Well, then keep on reading.
17 Best BBQ Joints In Memphis
921 S. Yates, Memphis – (901) 305-6889
When the founder of the brick-and-mortar store has previously won a World Championship Barbecue Cooking Contest, you know you're going to be in for a treat.
And a treat, indeed. Pick from a variety of different sandwiches and plates such as pulled pork, brisket, and ribs, and then add your favorite southern sides such as baked beans, coleslaw, or salad.
993 Cooper St, Memphis, TN 38104 – (901) 310-4141
Originally an award-winning food truck, Bryant Bain's Texas-style barbecue has upgraded into a much bigger and better premise thanks to a partnership with a bakery in Copper Young. The result, a restaurant with the best food on offer.
You can choose from a variety of different items such as melt-in-the-mouth pulled pork or brisket, or chow down on some spare ribs or sausage.
And then don't forget about the sides, the Jalapeno Lime Slaw gives a great spicy and sour hit to your meal while the 5-cheese Mac ensures the most comforting meal to exist.
And if you're visiting as a group, you should definitely check out the Texas Trinity which includes a pound of brisket, a pound of spare ribs, two sausage links, and four scrumptious sides!
1802 Elvis Presley Blvd, Memphis, Tn 38106 – (901) 774-7444
A&R Bar-B-Que was founded in 1983 by Andrew & Rose Pollard, when first established the menu offered nothing but barbecue and hamburgers. Since then, the restaurant has sky-rocketed in popularity and the menu is much more diverse.
What you can still expect, though, is that authentic delicious BBQ flavor. Select your meal from a range of succulent slow-smoked sandwiches, and a variety of plates including turkey leg, pork shoulder, catfish, ribs, and more, along with tons of hearty and filling bbq burgers and scrumptious sides.
Honestly, this menu is so extensive and delicious that recommending a meal is all but impossible, so instead I'll give you this handy top tip instead – always order a side of bbq sauce to drizzle over the top, that stuff is seriously addictive and I promise you'll crave more.
1404 Airways Blvd. Memphis TN 38114 – (901) 279-1758
With a selection of trophies to his name, Merritt Bailey definitely has plenty of barbecue bragging rights. The secret blend of seasoning, spices, and in-house sauce really makes the meals stand apart from much else that you've tried before.
And with signature seasonings such as those, there's no need to boast a complex and confusing menu. Ball Hoggerz keeps it nice and simple with a selection of Pork ribs, sandwiches, lunch combos, and a few extras.
Be sure to try the ribs, obviously, as well as the chicken wings!
147 E Butler Ave, Memphis, TN 38103 – (901) 672-7760
What's the best way to tell that a BBQ joint is popular? When there are four local restaurants in the area along with two further Nashville locations.
Central BBQ is one of the very best BBQ joints around and while it is renowned for it's smoked-meat, especially the Memphis Style Ribs, according to the owner Craig Blondis, it is the Barbecue Nachos that customers just can't get enough of.
So, of course, I had to try them for myself, and now it's very obvious why these are such top trenders.
First, you get to pick your choice of tortilla chips or homemade barbecue chips (I'd recommend the latter) then they are doused in two varieties of cheese and then topped with your choice of barbecue favorites, pulled pork, smoked chicken, or smoked portabella mushroom.
Next, they are drizzled in sauce at the self-serve sauce station where you can choose between hot, mild, mustard, or vinegar.
1063 S Parkway E, Memphis, TN 38106 – (901) 948-7652
Now, I know what you're thinking, but before you call me a criminal for letting an Italian restaurant take place on Memphis' best bbq joints list, let me explain why.
During the 50s the restaurant tried to get the locals on the pizza trend, but to do this they had to top it with some of the best-barbecued shoulder meat around.
And guess who used to frequent the joint, adoring their barbecue pizza? None other than The King himself, yep, Elvis Presley.
As you can imagine, this definitely didn't hurt business. And if you visit the original South Parkway location, the back room that Elvis used to request is now named after him and is covered in memorabilia.
So if you want some of the best BBQ pizza around as well as a blast from the past from an iconic music legend. This is the place to be.
5259 Poplar Ave, Memphis, TN 38119 – (901) 685-9744
Locals cannot get enough of Corky's BBQ. So much so that the restaurant has expanded to several different states such as Mississippi, Texas, and Arkansas. You'll also find bottles of their secret blend of barbecue sauce in most grocery stores, and their food shopped around the globe.
Because of such success, some may find it a little 'uncool' to say this is the best bbq joint around, but to that, I say the proof is in the pudding. It wouldn't have the success it does without being fantastic.
There are so many iconic and mouth-watering options on the menu. All the meats are slow-cooked over charcoal and hickory and every pork shoulder is even pulled by hand.
It's hard to pick a favorite, but I'd say the ribs and fried catfish combo served with a roll, coleslaw, and beans definitely deserve a moment of your time.
735 North Pkwy, Memphis, TN 38105 – (901) 527-9158
Anyone from Memphis will tell you that the cozy corner is one of the best places to chow down on some true barbecue comfort foods. Passed down from generation to generation, the secret recipes used to produce these delightful meals are highly coveted.
All the meat is placed in a Chicago-style smoker and is progressively moved up the racks until the perfectly smoked meat is produced. Be sure to try the barbecued Cornish hens as well as the ribs.
And make sure you have plenty of napkins, I can promise you things are about to get messy!
2290 S Germantown Rd, Germantown, TN 38138 – (901) 754-5540
This barbecue joint's claim to fame is the creation of barbecue nachos all the way back in 1982. The bed of tortilla chips doused in cheese and smothered in pork didn't seem much of a hit though up until the late 90s when baseball fans discovered them.
The restaurant offers plenty more though than just nachos. Choose from bbq shoulder, combo platters, hot links smoked sausages, hickory smoked ribs, burgers, salads, and pig tracks. Each meal is hearty, filling, and full of Southern flavor.
And if you're ready to really have your belly burst open at the seams, why not try to tackle The Boss Hog Special where you can choose any four meats off the menu, which are then served with beans, slaw, and a deviled egg?
7209 Winchester Road, Memphis, TN 38125 – (901) 624-6415
If you live in Memphis and have never heard of the Neely family, you must have been living under a rock, because these guys are legendary in the barbecue industry.
The specially built barbecue pit ensures melt-in-the-mouth moist meat. And the secret sauce is so scrumptious that many people even attempt to steal it away with them when they leave.
Their menu offers pretty much everything a barbecue lover could dream of. I must say that the Large Chopped Shoulder Sandwich is an absolute wonder to behold.
Though the sampler platter of pork ribs, beef ribs, links, brisket, pork shoulder, BBQ spaghetti, beans, slaw, and bread is a fantastic choice for those with larger appetites.
Just be sure not to overindulge on your mains, as you'll definitely want to make sure that you save enough space for one of their many delicious desserts which include sweet potato pie, pecan pie, and peach cobbler.
5465 Fox Plaza Dr, Memphis, TN 38115 – (901) 360-1963
First opened in 1922 and then later purchased by Wendy McCrory of Gus's World Famous Fried Chicken franchise, Leonard's BBQ is the longest standing name in the whole of Memphis barbecue.
And this isn't the only history behind the BBQ joint, Elvis was a frequent visitor who through many parties at the original location, and we even have Leonard to thank for putting coleslaw on sandwiches!
Now, let's talk about the food. These pit-cooked joints of meat are sure to blow your mind. The ribs are definitely the speciality so be sure to try those.
You can opt for wet ribs that come with a mild yet delicious glaze or if you prefer you can try the dry ribs that are smothered in a top-secret special blend of herbs and spices.
There are tons of delicious sides to try too. Of course, slaw is an obvious choice – Leonard is the pioneer for slaw sandwiches. And then I'd recommend the show string fries or the scrumptious side spaghetti.
1762 Lamar Ave, Memphis, TN 38114 – (901) 272-1523
Paynes have been pit-cooking delicious meats over smoky hickory coals for over four generations now. However, you can expect something a little different from Payne's as they chop and don't pull their specialty pork.
The restaurant is famed for its delicious side of mustard slaw as well as the barbecued bologna, so you'll need to give those a go for sure. Though I'd also say that the rib sandwich is also worth your time and taste buds!
4560 Elvis Presley Blvd, Memphis, TN 38116 – (901) 398-2987
Have you heard of Tony Pollard? Of course you have the football star that plays for the Dallas Cowboys! Well, his parents Tarrance and Torria own this delightful restaurant. So if great football games and even better food is your vibe, you'll fit right at home at Pollard's BBQ.
The menu boasts some of the best smoked pork, chicken, turkey, and beef about as well as many other options such as tamales and links.
I would certainly advise giving the pork duo a go. You get two pork options along with two scrumptious sides. And the fried okra, BBQ spaghetti, and baked beans are out of the world.
52 S 2nd St, Memphis, TN 38103 – (901) 523-2746
Did you know that back in the 50s, racks of ribs were just seen as scrap bits of meat, not worth all that much? Well, that was until Charlie Vergo threw some on the grill(see also: What Is Hibachi?). He added a few spices to the mix based on his fathers old Greek chili recipe…and the rest is history.
Obviously, with such a rich history, the ribs are a must try. But there are plenty of other things you'll be tempted to try too. And you won't be disappointed.
The barbecue nachos come fully loaded with stringy cheese and smoked-meat goodness. And if you call 24-hours ahead, you can even order a humongous skillet of barbecue shrimp…a whole 5 pounds worth!
4199 Hacks Cross Rd, Memphis, TN 38115 – (901) 244-6024
In a rush? Too hungry to wait for your grub? Then Tops Bar-B-Q fast food chain might be the perfect option for you. Having been cooking fall-apart-in-your-mouth meat for more than 7 decades, you can be sure that you're in good hands at Tops.
They're famous for many barbecue meals, but it's their burgers that really shine through.
Of course, the only acceptable way to eat these is to add some slow-cooked barbecue meat, sold by the ounce, to get that authentic Southern flavor. Although the loaded Bar-B-Q nachos are not something that you'll want to miss either.
1782 Madison Ave, Memphis, TN 38104 – (901) 272-1277
The Bar-B-Q shop certainly knows how to whip up a good pulled pork dish, in fact it's famous for it. But it's their barbecue spaghetti that really helps them stand out from the crowd.
Sure, spaghetti is a staple soul food sold at most barbecue restaurants. But it doesn't usually get combined with pulled pork that had been smoked for over 12 hours with a smoke-infused barbecue sauce. If you haven't guessed, I'm recommending the barbecue spaghetti as a must try.
Though the ultimate order is definitely the beef brisket half and half plates which are served with the Bar-B-Q spaghetti, slaw, and the infamous Texas Toast.
1779 Kirby Pkwy #1A, Memphis, TN 38138 – (901) 751-3615
Appearances can be deceptive, so don't let the look of this somewhat charming and pretty boutique-style restaurant fool you. The barbecue is the real deal. All the meat is marinated for a minimum of 24-hours and then slow-cooked to perfection.
And the menu is sure to get your stomach rumbling. To begin, you'll want to try the bbq nachos or the quesadilla.
Then for your mains there is plenty to choose from, from every kind of chicken; wings, drumsticks, and tenders to scrumptious salads, from wet or dry ribs, or pulled or chopped pork, the options never stop.
There's also combo dinners, regular dinners, sandwiches, hot dogs, and burgers. Top tip, be sure to upgrade your sandwiches to jumbo…you can thank me later.
Final Thoughts
As you can see from this article, no one on the planet does BBq quite like the South, and Memphis definitely reigns supreme. Regardless of whether you prefer pulled pork, chicken, or ribs, despite whichever sides you choose, you can be sure that there is a perfect restaurant option for you in Memphis.
Each and every restaurant mentioned today produces food so good that you'll never want it to end. So if you're looking for some classic barbecue slow-cooked meats that will fall apart in your mouth and leave you with a bursting belly…you'll want to check out the restaurants listed today.
And quick! My belly is rumbling from thinking about all those delightfully delicious dishes on the menus!
Latest posts by Kaitlyn James
(see all)