Fiiz is a popular specialty soda chain store in Midwest states, originating in Utah.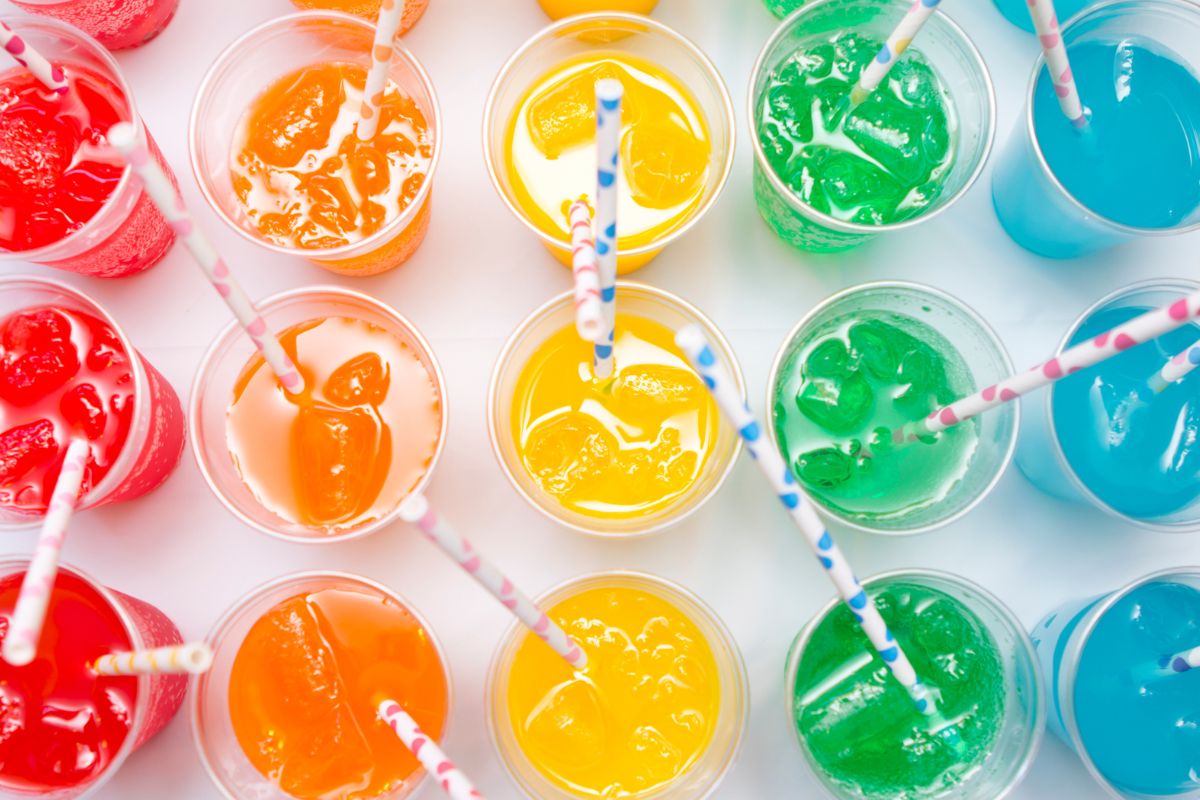 Serving Fiiz soda at your baptism party is sure to go down a treat with your guests, especially because their drinks are so varied and innovative.
But what is a soda bar, and why should you have one at your baptism party? Read on to find out!
Why You Should Have A Soda Bar At Your Baptism
Also known as a drink station, beverage station, or soda station, a soda bar allows your guests to choose the beverage of their choice and return for more whenever they want throughout the day.
This not only makes getting a beverage simpler for your guests, but cutting out the task of offering drinks and refilling glasses means you can spend more time mingling with your guests and taking care of more pressing hosting tasks.
What Is Fiiz Drinks?
Fiiz Drinks is the largest specialty soda shop chain in the US. The idea for Fiiz was dreamt up by the Anderson and Morgan families. They were the original Fiiz mixologists, and they bonded over their love of creating delicious, intriguing sodas.
Opening with just one store in 2014 in Bountiful, Utah, now the business has over 51 locations in the Midwest.
Tips For Beverage Stations
Decide On A Theme
Deciding on a theme is a great help in tying together the whole look of your beverage station. You can go for simple color themes, or a more seasonal look. But really, the options are endless!
A classic color scheme is red and white(see also: Make Your Own White Food Color Marker). For example, you could combine a white tablecloth with small red touches such as a red cake stand, cranberries, napkins, paper straws, soda station signs and labels for syrup bottles to make the look more cohesive.
Don't Splurge On A Beverage Cart
You don't have to break the bank on a beverage cart for a baptism's beverage station. If you're having a baptism party at home, you could set up the soda station in your dining room, on a desk, dresser, a folding table, or a kitchen counter.
Source Decor From Your Home
This might sound strange, but you'll be surprised just how many items you'll already have to hand that could also act as display items for your soda bar.
You can use these items to add some height and style to your soda station. For example, a 3-level appetizer server can display the sign for your soda bar, as well as the cans of soda denoting what beverages are available.
A cake stand, meanwhile, would be a good place to hold the flavored syrup bottles.
Menu Ideas For A Baptism Party
What do food and religion have in common?
They can all bring people together! If you're wondering what to serve your guests at a baptism party, you can't go wrong with finger foods and hors d'oeuvres that allow guests to easily mingle while enjoying some tasty snacks!
Let's take a look at some more menu ideas for a baptism party to spark some inspiration.
Bagel Bar
If your party is a brunch-style affair, then a variety of savory and sweet bagels is sure to go down a treat! Don't forget to add additions such as capers, cream cheese, and smoked salmon.
Cake
A baptism cake is the ultimate way to celebrate this special event, and is a staple of most baptism menus. These baptism cakes can be decorated with a cross design, or a poignant Bible quote or verse, and be displayed on a gorgeous cake stand.
Light Bites
You can incorporate a snack bar into the party that allows guests to easily dish up some food. If you keep it simple you can offer a range of options such as charcuterie boards, chips and dip, mini quiches, pretzels, and veggies and hummus.
Potluck
If you're feeling a little overwhelmed planning your baptism party, why not ask your family and friends to chip in by hosting a potluck baptism party? Ask each guest to bring along their favorite dessert, drink, or other small dish to share with your loved ones.
Themes For A Baptism Party
The best theme for any baptism reception is one that centers around the main cause for celebration – your child's baptism! Luckily, there are lots of simple yet adorable themes and ideas you can incorporate into your baptism party.
Cuddly Animals
From Winnie the Pooh to Peter Rabbit, cute, cuddly animals that are childhood icons are amazing for celebrating the baptism of your little ones with your friends and family.
Seasonal
No matter when you host your baptism reception, you can celebrate this special day by matching the party to the season.
For example, go for a floral scheme for spring, some beachy colors for summer, autumnal colors and pumpkins for fall, and Christmas colors for winter.
Twins
If your twins are being baptized, celebrate the special occasion by doubling all of your decorations, and dressing your babies in matching colors or outfits.
Frequently Asked Questions
When Should You Hold A Baptism Party?
A baptism reception should take place shortly after the baptism is finished, just like a wedding reception directly follows the ceremony. What time of day you hold the event will depend on the availability of your church and the reception venue.
How Long Does A Baptism Party Last?
Baptism parties tend to be small, intimate affairs, but how long the party lasts is entirely up to you! The length of a relaxed meal is normally a good guide when deciding how long your party should last.
Who Should You Invite To A Baptism Party?
A baptism party should be as intimate as the ceremony itself, and 4–10 guests is considered the norm, but of course this is totally up to you. Normally, the following people are invited to a baptism party:

– Your Immediate Family
Parents and siblings should be invited to a baptism party, as well as any other family members that play an active role in your child's life.

– Godparents
Godparents should be invited both to the baptism and the reception, as they have now been deemed important people in your child's life.

– The Minister
Inviting the minister who performed the baptism is a nice gesture, but every minister is different and may decide that the reception is a more suitable celebration for just close family.
When Should You Send Out Invitations To A Baptism Party?
Whoever you invite, you need to give them a suitable amount of time to RSVP. Three to five weeks is usually considered appropriate. It's important to keep in mind that some guests may not be able to attend if they have other plans.

If you're just hosting a small party, you can send a virtual poll to your guests before you decide on a date to see what time is best for everyone.
Final Thoughts
We hope our article has helped you plan your baptism reception! Although a baptism party is a small affair, it's still worth paying attention to details such as decor, food and beverages, especially focusing on what makes hosting the party easier.
A soda bar does just that, allowing guests to refill their cups as you please while you enjoy the party.
Latest posts by Kaitlyn James
(see all)